I could not be happier about the response to our US Made Military Coins and Challenge Coins.  We are seeing considerable interest in this option.  We have had the opportunity to provide coins for Vetstock which is a great honor.  We recently did a memorial coin for a soldier killed in Afghanistan.  How can I say what an honor that is?
Military Coins for Special Units
One very special honor for us is that we were chosen to manufacture coins for the famed Fifth Special Forces Group (Airborne).  I am told that the commander specifically wanted the coins to be made in the USA so he came to us.  The good sergeant with whom we dea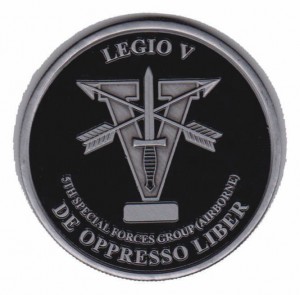 lt was professional in every way and a credit to his unit and the Special Operations Command.   We had fun making this coin because it has very special symbolism on the other side.  (You have to earn one to see it:)
Price wise these coins were every bit as affordable as those made off-shore.   The key in this case was making a decent quantity so that the coins entered the very affordable range.
Veterans Organizations see a Fit with US Sourced Coins
I was surprised at the warm reception we have gotten as we offer USA Made custom coins as an alternative to those we make overseas, from veteran groups.  Even more than the military sometimes , many of them seem committed to shopping the USA first.  I have a special place in my heart for small veteran's groups and charities.  It is amazing how much good a few vets wanting to help their fellow veterans can do.  Search "help for Veterans" and see just how many folks there are working for our veterans.  It is a heartwarming story.  I live making challenge coins for them.
Veteran's Court Challenge Coins
There was a time when I did not even know what this was.  Then I was approached by a veteran's court to do treatment coins and reward coins for them.  I was happy to learn about the great work they are doing for our veterans.  If you want to read more about veteran's courts you might start here.  This is not the organization for whom we did the coins (we would like to of course 🙂  but they have a great explanation about what the program is.
Veteran's court coins can take several forms.  Of course there can be a coin for the Judge or senior staff.  There can be a true challenge coin rewarding vets for accepting the challenges in their recovery.  Another challenge coin might commemorate their graduation from a program while still another military coin might be used designed to reward staff and community.   However these reward coins are structured, they will be greatly appreciated by veterans.
Remember that our valued veterans are familiar with Challenge Coins.  They know what military coins  are and are accustomed to being honored to receive them.
Anything we can do to welcome home our veterans and show them that we appreciate their sacrifice is good to me.  When we can do that thoughtfully, in a way that is important to them on a personal level, using something like a challenge coin, all the better.
So we are very happy that we have decided to offer both USA made and overseas made Challenge Coins.  It is working out well for us.  Our next foray into this intriguing area of business will be fun.
COMING SOON!
We are just beginning work on a merchandise center for those who wish to buy American.  It won't be elaborate at first but we want to see what is out there and make it available.  There is a myth abroad that we do not make anything in the US anymore.  Nothing could be further from the truth.  The US makes all kinds of stuff.  I am going to search out the best American made items and offer some for sale.  I hope it catches on. Maybe we will throw a funning item or two in with the serious stuff.  We don't make others laugh enough.  So soon we will be in the ecommerce business.  I have hopes that we can find the sorts of things that you are in a hurry to buy and still let you support businesses at home…..like ours.
That is about all for now.  The Custom Challenge Coin business is as fun and interesting as it always has been.  It never gets old designing coins that I know people will value long after I have finally achieved room temperature.  So if you find yourself wanting to talk to me about your Challenge Coins then please drop me a call.  I love to talk and would appreciate the opportunity to hear about your project and see if we can do anything to make it easier  for you.
Give us a call.  We are here to help.
Rick McCallum