What is your card really for?
Everyone has a business card, right? You pretty much have to. It is the best way to get your contact information into the hands of the customer. Seriously. Doesn't it bother you to have to search for a pencil or try to poke information into your smart phone when a simple, old fashioned business card would do the trick? Then there is the lame, "I'll text you my information." Like this customer wants you to have their cell number pretty much automatically. They look forward to your "have you made a decision yet" texts.
HINT
Here is a hint. If the customer says, "Just email it to me" they don't want to get into a text conversation with you.
BUT WHO KEEPS BUSINESS CARDS?
Well. Lots of folks do. I do. You probably have a few too. If they are important ones to me I put them in my card file. If they are not they go into a pile or the trash. Which is yours going to?
The fact is that if you have done your job right at that first meeting you will add value to your card by incorporating it into your initial contact. When you hand the customer your card you have prepared a statement giving the customer a good reason to keep your card. Something like:
"Here is my card with my email and cell numbers. If you will drop me an email I will get the information right out to you today".
or
"I put the link to the site I mentioned on the back of my card. Take a look at that and let me know what you think."
Remember. There has to be a good reason for the person to keep your card or they probably will not.
YOUR CARD IS THEIR TICKET TO THE DOOR
So you have been selling your heart out and the customer just won't budge. You hear those words you are fearing.
"Well. Give me your card and I will think about it".
This is sure not good news,. is it?
It could mean that you are all-in. I prefer to think it means that you are all in "that day". So card them you must but the same rule applies. Give them a reason to keep your card.
Does it matter how fancy your card is?
Short answer….Probably not. If they are interested in what you have said or what you are selling they will keep a match book cover. But if you are using your card as a prospecting tool, or to try for future business then the problem is not how pretty the card is, it is how to get them to keep it…. Then to remember why they have it…How about motivate them to look for it….And then to know where it is…..And…..
So here is the deal.
YOU NEED A CARD THEY WILL NEVER THROW AWAY
You knew I would get to challenge coins eventually, didn't you? Here is a picture of my business card coin. No professional shot just a quick cell picture to give you an idea of what we are talking about.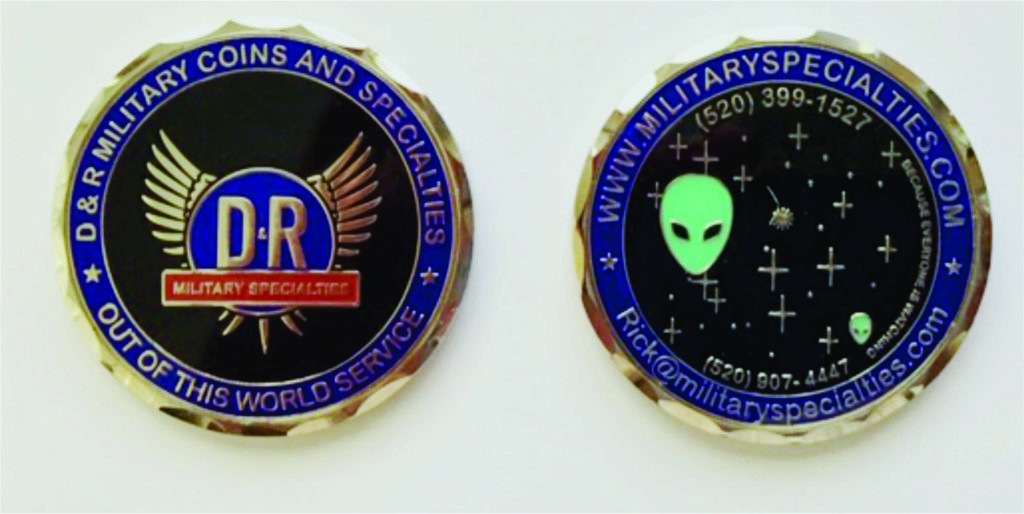 So here is a card that nobody will throw away because it is very special. Why? It is certainly beautiful. For high perceived value it has no equal. has a high perceived value. It has my phone numbers and email address. This one has a somewhat humorous message and it even glows in the dark.
BUT THIS BUSINESS CARD COIN IS NOT CHEAP
I agree. Depending on how many you order, a challenge coin business card can start at about $3.00 and go up somewhat from there. Our current coin special of $480.00 would get you 100 beautiful full color coins with future orders or quantities over the initial 100 costing much less per coin. So this is not something you want to hand out like water though I would very much appreciate it if you did. That is why you think of this coin as a supplement to your paper business cards.
BUSINESS CARDS ARE AN EXPENSE CHALLENGE COIN BUSINESS CARDS ARE AN INVESTMENT.
You make the call. Coin business cards are for your best opportunities not just your best customers. What do I mean by this? If you believe that you really want the person standing in front of you to always have your card and you believe she/he might actually call, give them the coin. These coins are reserved for real opportunities. If you are just taking a shot in the dark give them your paper business card. But here is the key o making the decision. Really think about this……
As you reach for your paper cards in your left pocket or your challenge coin business cards in your right, ask yourself "have I delivered a good message that encourages the person in front of me to 'want' to call me? In other words, have I delivered a real sales message so that he/she has an incentive to call."
What did the prospect hear?
At the end of the day what really matters is what the customer or prospect believes. If you have ever heard a customer say, "I'm not interested" you may want to ask yourself, "Was I interesting?" "What is it that this prospect really needs, wants or desires?" The challenge coin business card will never be thrown away but it is up to you to make it represent something that is important to the customer.
By the way. If you capture the prospect's information or have it already, you will probably want to follow up. A quick ice breaker on the phone is to talk about your coin. People will be surprised. Set the stage with the customer as you are leaving by saying, "show that coin around. I am curious as to what you and others think about it." Then when you call the customer back it gives you a good ice breaker as you talk about the coin.
WHO KNEW THAT A BUSINESS CARD COULD KEY SO MUCH THOUGHT?
Every encounter with a client (phone, in-person or via email) should be purposeful. Unless you are golf buddies you should prepare for it. The challenge coin business card is just a piece of the pie. But it is an edge your competition will not have. Their card will be in the client's desk, not on it.
Call me and we can discuss this more. I have some other ideas that can increase your sales, so what do you have to lose?